3900 Dr. Greaves Road
Grandview, MO 64082
CATEGORIES & HEADINGSdetails >>
Ruskin® manufactures a complete line of UL classified dampers designed to protect life and property. To meet the diversity of fire and smoke protection requirements, Ruskin® dampers are available in a range of classifications and with a variety of standard features and options.

Ruskin® smoke dampers are all UL555S Classified and cover Leakage Classes 1 through III. Ruskin® fire dampers meet UL555, UL555C, NFPA, and requirements for primary fire dampers in walls, ceilings and floors. They are suitable for both dynamic "fans on" or static systems.

Ruskin® combination fire/smoke dampers are designed to operate as an integral part of an engineered smoke control system. Ruskin® access doors complete your fire and smoke package.

To make installation easier, Ruskin® offers a variety of labor-saving devices. These include, factory sleeves, mounting angles, special tagging by floor or area, factory-mounted actuators, and remote testing. Regardless of the Ruskin® damper you choose, you can be certain that Ruskin® products will perform as tested.


Vendor Showcase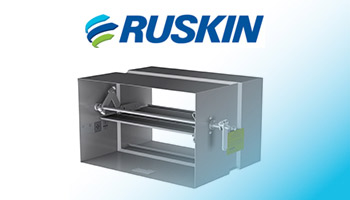 The Ruskin® DFD-LP is the only Low Profile integral frame-sleeve, high performance dynamic fire damper. The DFD-LP utilizes an easy-to-reset fuse link.

The DFD-LP fire damper also offers a fast single-side mounting angle, easy opening crank lever and an external mount blade position indicator that keeps safety in mind. read more